8 Must-Watch Movies For This Summer
Hello everyone! I hope you all are as stoked for summer as I am! I've already started a to-do list for these next few months, which includes many adventures that'll keep me from the laziness epidemic that is summer break.

For those relaxed nights when I feel like staying in & watching a flick, I put together a list of a few movies that are absolutely perfect for getting into the summer spirit. Nothing says summer like beaches, vacations, vacations on beaches & more! But seriously, if you haven't seen some of the movies on this list, I highly recommend that you set aside some time to do so.

Without further ado, here are some films that will get you into the summer groove!



(Via Tumblr)

1. Fun in Acapulco (1963)

So, imagine Elvis Presley wants to take you on a little vacay to the splendid Acapulco, Mexico. How could you possibly turn that down? This movie is perfect for a night of fun with The King himself. Watch him act as a lifeguard & chat up beautiful women in paradise. What more could you possibly want?



(Via film-cine.com)

2. Beach Party (1963)

This classic will have you laughing as well as singing & dancing. It stars the lovely Frankie Avalon & Annette Funicello, who did such an amazing job, they had to make three more films just like it (which you should also check out.) It really makes me wanna take up surfing or at least invest in a beach house.



(Via Tumblr)

3. Adventureland (2009)

Another aspect of summer: theme parks! This movie encompasses a bunch of young adults trying to figure their life out whilst working a summer job at an amusement park. It reminds me a lot of Freaks & Geeks especially since it takes place in the eighties. Another huge reason to watch it is because it has Kristen Wiig & Bill Hader (oh, & Kristen Stewart).




(Via IMDb)

4. Almost Famous (2000)

I'm a huge fan of music from the seventies and this movie was set in 1973, which was a great year for rock 'n' roll. It kinda gives an idea of what it was like being on tour with a band back then. It also portrays all the struggles of being a teenager at that time, which are plenty.


(Screenshot // Eureka Pictures)

5. Wet Hot American Summer (2001)

The best thing about this movie is its star-studded cast. It takes place on the last day of camp with tons of crazy shenanigans. The plot of the movie is set in the eighties, too, so I suppose the eighties had every ingredient needed for a perfect summer. A must-watch if you're curious to see what Amy Poehler was like almost 15 years ago!


6. The Blue Lagoon (1980)

Being stranded on an island in paradise sounds pretty great at the moment. I actually haven't seen this one yet, but I really want to because its sequel, Blue Lagoon Returns, was such a great movie. I highly recommend seeing both if you really want a dose of the island in paradise vibe.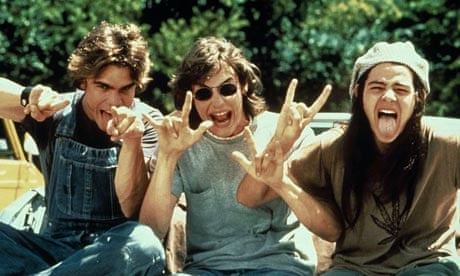 7. Dazed & Confused (1993)
School's out & it's 1976. Lots of adventures are waiting to be had! This movie made me glad I'm not a freshman in high school anymore, man, those were some arduous times. Nevertheless, you should definitely add this to your summer movie list.
8. Dirty Dancing (1987)
"Nobody puts baby in a corner!" Best. Line. Ever. Patrick Swayze is such a handsome devil & you gotta love Jennifer Grey's hot bod. This is another one of those movies that takes place in a different decade. It's set in the sixties which makes it an instant classic. The choreography in the film is fantastic & will make you wanna dance along.
Hope you get a chance to check some of these movies out. If you feel there should be more added to the list, let me know! There are countless other movies I could've added, as well, so hopefully these will suffice. That's all for now!
Mars